Let's be real for a second. We need cash to protect and restore this planet.
However, the current state of the world is making it much harder to secure the funds you need to do that.
Rather than waiting for others, I am always a fan of taking matters into my own hands. If ordinary revenue creation methods are unreliable, we must find new ways to increase revenue.
So today, I share with you out-of-the-box ideas to create a revenue boost for your environmental NGO. Time to make some money and double your impact!
P.S.: there are also some nuggets for biodiversity companies in here if you need to bootstrap or diversify your revenue streams.
29 ways to increase the revenue of your nature NGO
1. Monetize your newsletter
In Addition to your ordinary newsletter, you can offer a premium newsletter with exclusive stories, insights, pictures, etc., for which you charge people. Substack & Beehiv are tools that allow you to do this, for example.
2. Sell drop shipping merch
People love to buy clothes, so why not use this to take their commitment further? You also don't need to start a logistic nightmare or sourcing fabric. Solutions like Teemill allow you to start selling in a simple and sustainable manner today.
3. Apply for grants
Duhh I know a no-brainer. Yet, sometimes we tend to forget the solutions that are right in front of our eyes. In the Biodiversity Hero OS you received when you signed up, I added >100 grants & co. that you can look into.
4. Offer the adoption of an animal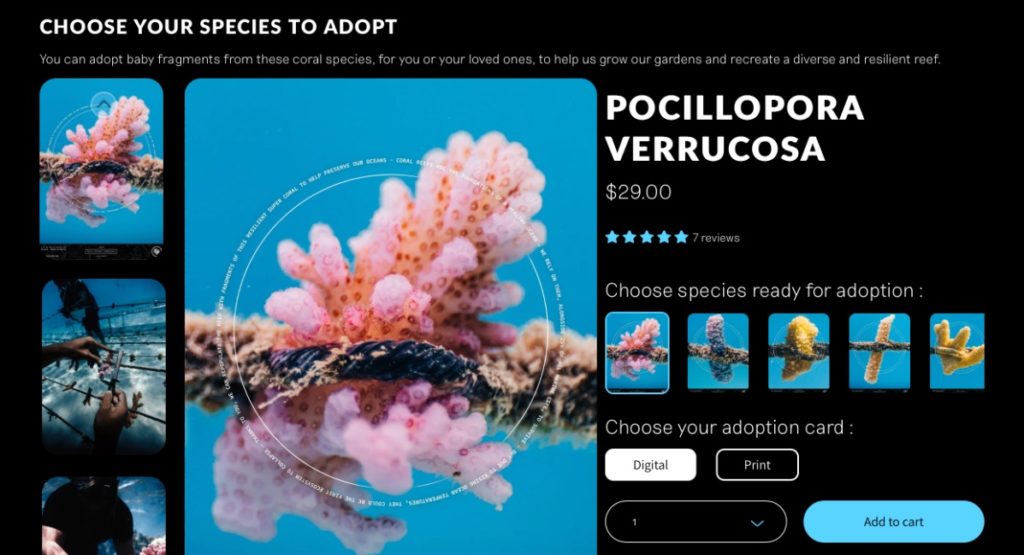 The option of just donating is not as catchy as it used to be. Additionally, let people adopt a single coral, tree, leopard, elephant, etc. This sort of donation creates a stronger bond, so people will support you longer. Coral Gardeners do a great job with this technique.
5. Create digital downloads
Nowadays, people do not only consume produced goods but also digital ones. Classic examples are e-books, pictures to print yourself, patterns, etc.
You can create uniquely styled designs that match your NGO & sell them through Etsy, Gumroad & co.
6. Establish a Netflix subscription model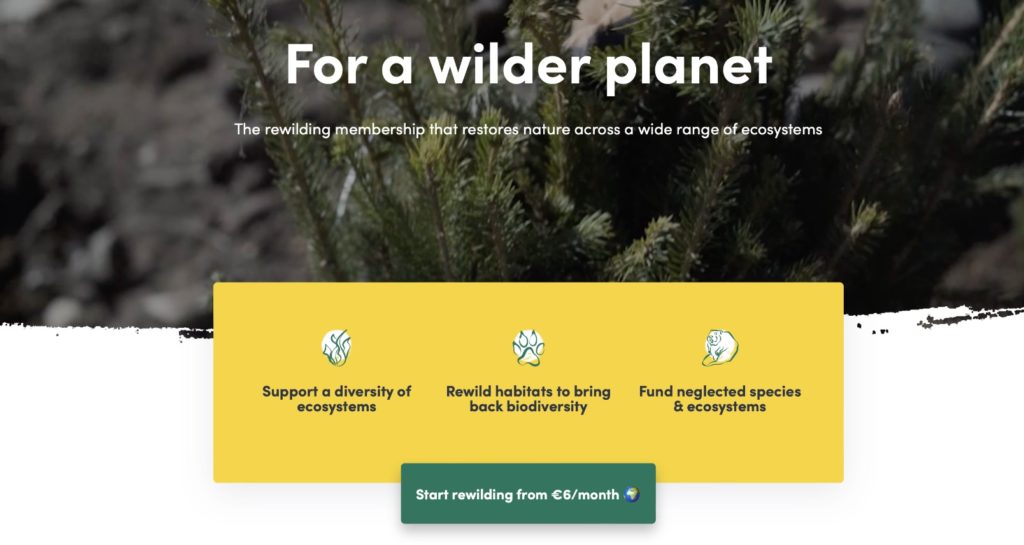 Donations monthly worked in the past. Nowadays, people love subscriptions. Just change your offer and make it look more like a subscription-based model similar to Netflix, where participants get benefits when they support your NGO.
Mossy Earth did a great job on this.
7. Provide an online course
Some supporters probably want to dive deeper into the work of your NGO, so why not providing them with a detailed online course that teaches them the methodology, scientific methods, detailed ecological info, etc.?
8. Host online & offline events
Offline events are very popular with NGOs and are a great way to collect funds. The same goes for online events and webinars.
More and more events are switching to digital, so you should consider it too. Eventbrite or Gather are good tools to test the waters.
9. Seek out philanthropists
Sometimes rather than trying to convince 100 or 1000s of people, finding one wealthier person to support you can be more fruitful.
Not as easy as connecting via Linkedin, but take a lot in your network if someone knows someone, that knows someone, and go from there.
10. Partner up with companies to get some percentages
See if you can collaborate with companies to get a percentage of their sales automatically attached to your cause.
If you work in lion conservation, you could approach the Premier League, Lion Snackbar, Lion Chips, etc. You can sign up to 1% for the Planet to be found more easily.
11. Create Youtube clips and monetise them
If you are good in front of the camera and have a fable for videos, you can start a YouTube channel to inform people about your work.
You can set up a system to make money with the ads people see before your video starts.
12. Host trips into your nature area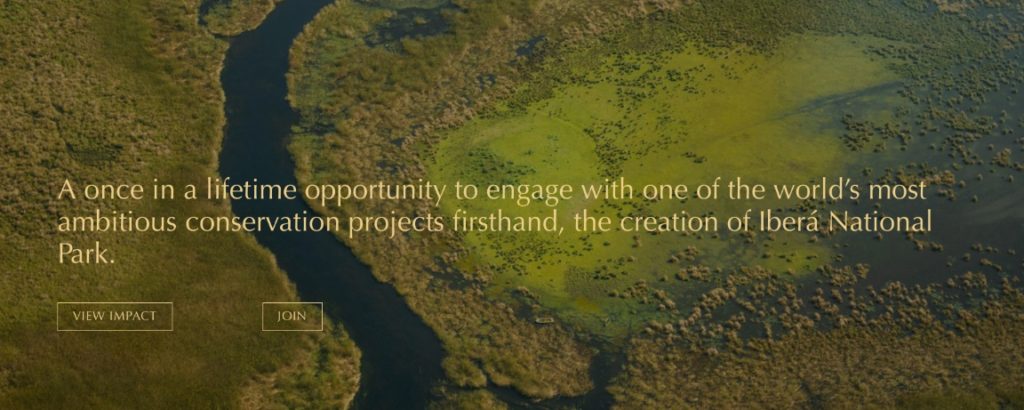 Work together with Travel agencies and local communities to host trips in the area you operate in. People love to travel and seek for new adventures.
If, at the same time, they can learn from you & support you, it will be a win for everyone. Journeys with Purpose do a great job on that.
13. Do digital trips
Now of course, traveling to Papua New Guinea is dope, but not everyone can afford that. So why don't you create some digital experiences in your area?
Cooking classes, safaris, etc., thanks to technology, this is possible today. WildEarth was one of the pioneers in this.
14. Online crowdfunding
Sometimes you might need a kickstart or a bigger investment to create your impact. Online crowdfunding can be a great tool to get people excited about your work and get the necessary funds.
Mission to Marsh kicked off their NGO like this, for example.
15. Establish legacy giving
We all die one day, and I know that one of the most important things I want to leave behind is a positive impact on nature.
Turns out I am not alone in this. Offering those options respectfully can be a game changer for you. Check out the Nature Conservancy is doing to have a perfect example of this.
16. Allow school or university excursions to your area
Teach the young ones how the ecosystem you take care of works and make some money along the way.
Schools and universities often look to partner up to shape their curriculum.
🐋  Do you want more kicking hacks like this to improve your organization's strategy?
Subscribe to the Double your impact newsletter to get weekly tips and… double your impact!
17. Carbon offsetting
Not going into detail here, but carbon markets are already well established and can be a funding mechanism that allows you to protect your area.
The most credible company that I found so far is Pachama.
18. Set up affiliate marketing
There might be some strategic overlaps between your NGO and some companies. So it is worth exploring to see if there is a natural way to promote the products you use in your daily operations and get money for it.
Examples can be the equipment you use, the clothes you wear, the tools you use, software, etc.
19. Hold a conservation auction
Auctions can be an excellent way to increase your revenue because people seem to like the competitive game character of them.
The cherry on top: you can host them offline or online. For auctionable material, you can offer trips, dinners, exclusive merch, etc.
20. Collaborate with a nature photographer
Thanks to technology, nature photography is getting incredibly powerful. People love to look at nature, and photographers always search for new images.
Work with them and create a collab where the funds of a particular picture go to your efforts. Prints for Wildlife is a beautiful example of that.
21. Offer keynotes
Keynote is the new buzzword on Linkedin. So why don't you give it a go as well? Sharpen your storytelling skills and find an interesting angle.
After you finish your homework, get out there and contact people if they want to hire you for a keynote (public speaking, where you talk about a particular issue).
22. Produce products out of pollution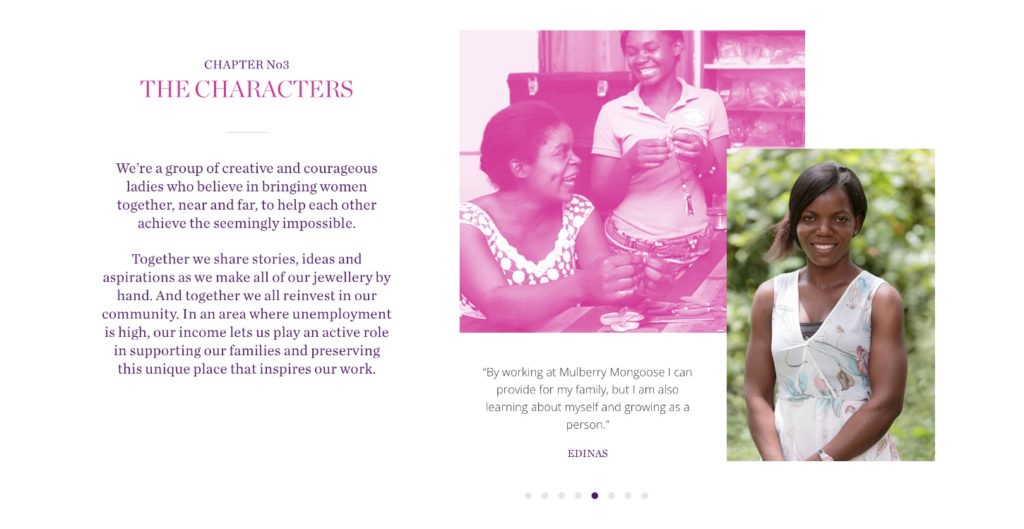 Snares, plastic bottles, fishnets & co. can devastate the species you look after with your nature NGO.
So please remove them and start creating products out of them and selling them. Remarkable companies that took this path are 4ocean, Bureo & Mulberry Mongoose.
23. Create sustainable agricultural products
Habitat loss is mainly driven by agriculture. So there is a good chance that your project is affected by it.
Maybe there is an angle on working closer with farmers to find solutions that benefit all. The best example I know is Peru Puro.
24. Track your impact and sell that to companies
Greenwashing is presenting an increasing risk for companies, so they are looking for ways to find genuinely impactful, credible actions.
You can plant coral, collect plastic, protect pieces of land, etc. Handprint is an excellent platform for that (let me know if you need an introduction).
25. Build an eco-lodge
Now one of those tips that need a bit more capital, but this can be a great way to generate income for your nature project and provide the local community with employment.
26. Create an NFT
NFTs are those digital artworks. By now, some special artists focus on NFT creation. This probably needs a longer post in the future. But my point is that you can generate cash flow by selling those NFTs and make some additional revenue when the owner sells them again. To know more about it, check out Tldr Earth which writes a lot about this topic.
27. Accept cryptocurrencies
You can simply boost your revenue for your nature NGO by offering different payment formats. Younger generations, especially, own cryptocurrency. So you can enable the possibility to receive cryptocurrency donations to reach those demographic groups.
One Earth is doing this, for example. The Giving Block is a plug-in solution to deal with this.
28. Set up biodiversity credits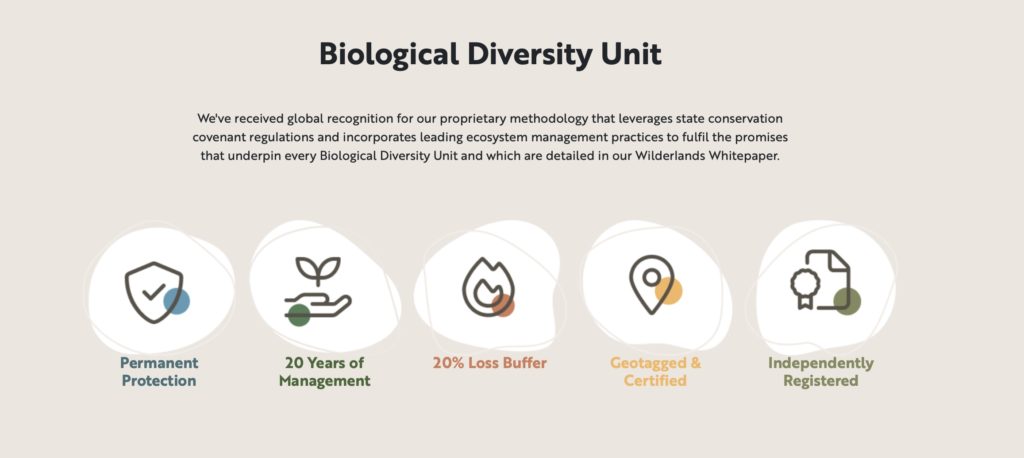 Not a quick win, but those biodiversity credits will come sooner or later. Now you can still position yourself as the leader and shape this market so that it learns from the mistakes of the carbon offset market.
A great example is our amazing partner Wilderlands.
29. Create a game
Initially, I said this would be more out of the box. The gaming industry is a massive market, and plenty of gamers are fascinated by nature.
So you could collaborate with a game studio to co-create a game and get parts of the revenue. The best practice for this is Anibles.
Your turn: Let's give a revenue boost to your Nature NGO
Here are 5 Actions you can take to increase the revenue of your Nature NGO:
1. Take 30 minutes next week to reflect on your current revenue streams. Are you happy, or could they be diversified?
2. Pick 3 of the proposed ways to increase revenue that resonate the most with you and do some more research on them.
3. Choose the one idea with the biggest potential to boost revenue and cross-check how long it would take to set it up.
4. Set up a clear action plan with milestones and timelines that ensure you follow this.
5. Contact me (oliver@wildbusinessmates.com) if that was too overwhelming here and you would prefer to have some opinions from outside and tailored-made recommendations.
Now, money doesn't solve everything, but rewilding and protecting is an expensive venture. So I truly hope these 29 ways to increase the revenue of your Nature NGO are going to help you tackle that key aspect.
Currently, getting the funding you need is harder than ever, so I wanted to show you with these ideas you can try new ways to expand your cash flow.
Will all of these work for you? Of course not. Some need to be twisted or combined, but I would be thrilled if this newsletter just sparked 1 new idea of how you can make more revenue for your biodiversity NGO.
See you next week. Have a wild one!
Best,
Oliver
🦧 Whenever you are ready, there are 2 ways Wild Business Mates can help you grow and double your impact:
1-to-1 business consulting. Detailed and personalized consulting to double the impact of your biodiversity organization in the shortest possible time. Not sure which of those ideas work for you? Let's jump into a call.
Wild Business Mates in Action. Wild Business Mates help you execute in areas you are struggling with. Tech, Marketing, Sales, Communication, etc. We can realize all the ideas I mentioned above.