Are you wondering why I can be so precise in this newsletter's title? It's because 5771 is precisely the number of new followers I grew on LinkedIn organically over the past 8 months. For those of you who read this article later, it was between January and August 2023, and this number is still increasing.
It is one of the few things I have proof that it works. Building websites, sales, marketing efforts, etc., are always more complex to prove.
This won't be a brag show to celebrate myself. Instead, I want to help you get your voice heard by learning how to increase followers on Linkedin. Why? Because Biodiversity Heroes like you should get more attention.
The first thousands of people are the hardest to reach because you don't benefit from the compounding effects. Later on, it gets much easier.
I know how tricky this LinkedIn adventure can be. Therefore, I wanted to create a quick starting guide with some first steps on how you can grow your follower base and online community.
Are you ready to give more visibility to your actions for our planet and, ultimately and hopefully, double your impact? Let's go!
11 steps on how to increase your followers on LinkedIn
1. Dedicate time
The hardest step that most LinkedIn voices constantly forget is that you need to dedicate time to this new adventure. Posting on Linkedin is free, but your time isn't.
First, you need to decide if you want to outsource this work to someone like me or if you want to tackle this yourself.
Second, you need to decide how much time per day you can invest in your LinkedIn.
💡 Personal recommendation: start with 30 minutes per day and go from there. The faster you want to grow, the more time is needed.
🐘 How I do it: I spend 1.5 hours daily engaging, creating posts, personal messages, etc.
2. Precise who you want to talk to
Before doing anything else, you must reflect on the people you want to connect with. Who should ideally see your posts?
Do you want to talk to your customers?
Do you want to get the attention of donors?
Do you want to connect with like-minded nature business founders?
Being precise here will help you massively in the following steps. Rather than speaking to everyone, you talk to those who will benefit the most from you being on Linkedin.
🐘 How I do it: the audience I want to reach are people who are concerned about nature but struggle to take action.
3. Choose some topics
Of course, you can start posting about everything that comes to your mind, but it might be tricky for people to understand what you are about.
I highly recommend you stick to a maximum of 3 topics initially. Ideally, those topics should solve a pain for your target audience.
🐘 How I do it: I write about biodiversity, mental fitness, and ecopreneurship. For me, all these 3 are interconnected.
4. Pimp your profile
Now that you know who you want to talk to and what you want to write about, it is time to design your profile.
Quick checklist:
good profile picture;
enable creator mode;
up to-date work and education experience;
matching headline;
fill the "talks about" section with the 3 topics;
call to action to link to your nature venture;
good about text;
fill the featured area with more call-to-actions (your website, a great post, etc.);
make use of the header image.
🐘 How I do it: Feel free to check and get inspired by how I designed my profile. But the key remains to adapt it to find your angle.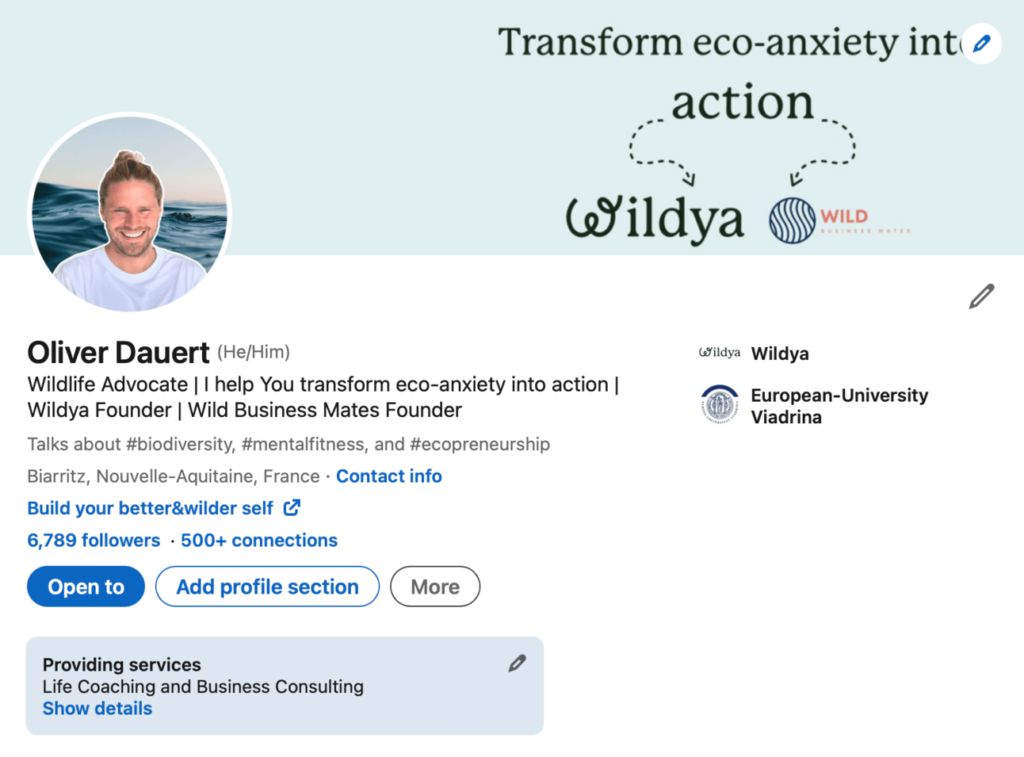 👉 Want to learn more about the importance of personal branding? Check out the article Personal Branding: 10 Reasons Why You Should Have Started Yesterday.
5. Engage with others
You don't have to post immediately. Engaging with others can also grow your audience.
Why should people like, comment, and share your stuff if you don't give anything back in return?
Be authentic and join the conversation that other people started. Share your opinion and thoughts.
Engage especially with those that reflect your target audience or those that have the attention of your target audience.
🐘 How I do it: I comment and like posts from big to small accounts as long as I genuinely find them interesting. I am not forcing myself to create pseudo-comments.
👋 WBM tip: If a LinkedIn voice inspires you, hit their bell button so you always get notified when they post something. Like this, you can be sure to comment first, which helps you gain visibility.
6. Set up an inspiration database
One of the biggest challenges people share with me is that they don't know what to post. To solve this issue, I recommend you create a Notion database, excel sheet, word doc, or whatever works for you, to keep your ideas.
Whenever you see something interesting, just put it into the database. Thanks to this, you are never running out of ideas.
🐘 How I do it: I use Notion, and this is my setup.

7. Use your strengths
Work with the cards you have been dealt with. Reflect on your best strengths.
Are you a good writer? 👉 Write longer posts.
Do you like to speak in public? 👉 Set up carousels similar to a PowerPoint.
Are you good on camera? 👉 Create videos.
Do you have a good eye for design? 👉 Design pictures, frameworks, carousels & co.
Rather than forcing it, work first with your strengths and create content that comes easily to you.
🐘 How I do it: I started with writing and moved from there into the other fields. Now I do a mix.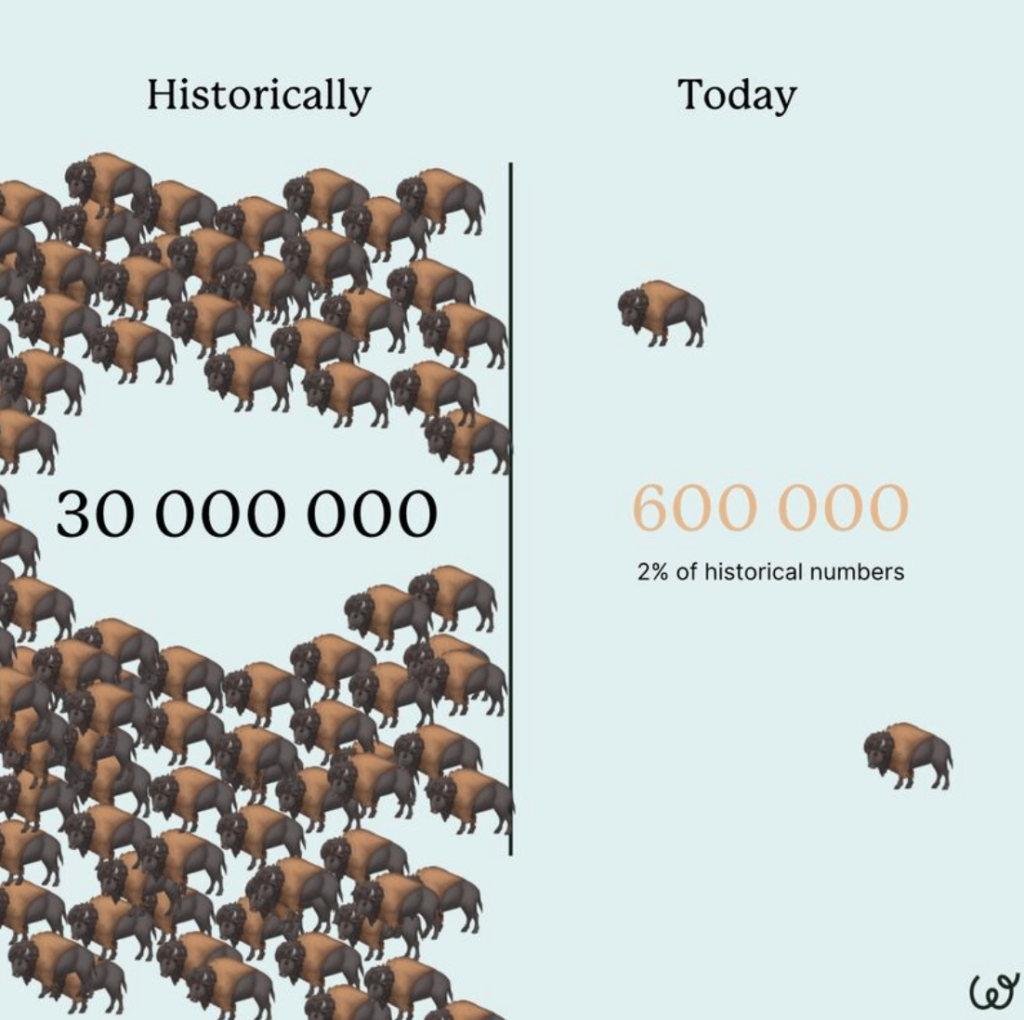 8. Post regularly
I can't stress enough how important this step is. It is my biggest "secret" for my growth. I just show up daily.
Your posts will compound with time, and people will better understand who you are and what you are about.
Even if it is only once a week, you have to show up regularly. Otherwise, it is impossible to grow.
🐘 How I do it: I post every single day of the week at 10:45 a.m. (the best time that works for me).
🦌 Looking for the best tools and resources to make your organization thrive?
Download our free Biodiversity Hero OS and discover the best support materials available!
9. Diversify posts
After a while, it becomes quickly dry for your followers if you always use the same format for your posts. So, try to mix things up constantly.
Your voice and topics should stay the same, but the format should change.
Linkedin formats:
written posts;
pictures;
documents;
carousels;
videos;
newsletters;
articles;
polls.
🐘 How I do it: I constantly rotate my posts so it doesn't get boring.
10. Professionalize your posts
If you managed to get to this stage, you seem serious about this. So, the next step you need to climb is to go the extra mile regarding the quality of your content.
Learn how to copywrite, use Canva for designs, structure your posts for easier reading, etc.
This will set you apart because the vast majority on Linkedin don't put in this time.
🐘 How I do it: I learned Canva first because they have easy templates. Afterward, I learned more about copywriting.
11. Learn algorithm hacks
Okay, last step. I could and probably will write an entire post just about this. Like other Social Media networks, LinkedIn has algorithm hacks you should explore.
They make it much easier to grow your biodiversity hero voice.
Few examples:
don't share links in the post but in the comments.
Always ask a question at the end of each post.
Provide more value in the comment section.
Provide additional valuable comments after the post starts to take off.
Use hashtags strategically (max. 5, start with the biggest topic).
Tag people if relevant. You don't want to spam people!
Stay around for the first moments after you post to react to incoming comments quickly.
🐘 How I do it: I do all those above and a couple more, but let's tackle those another time.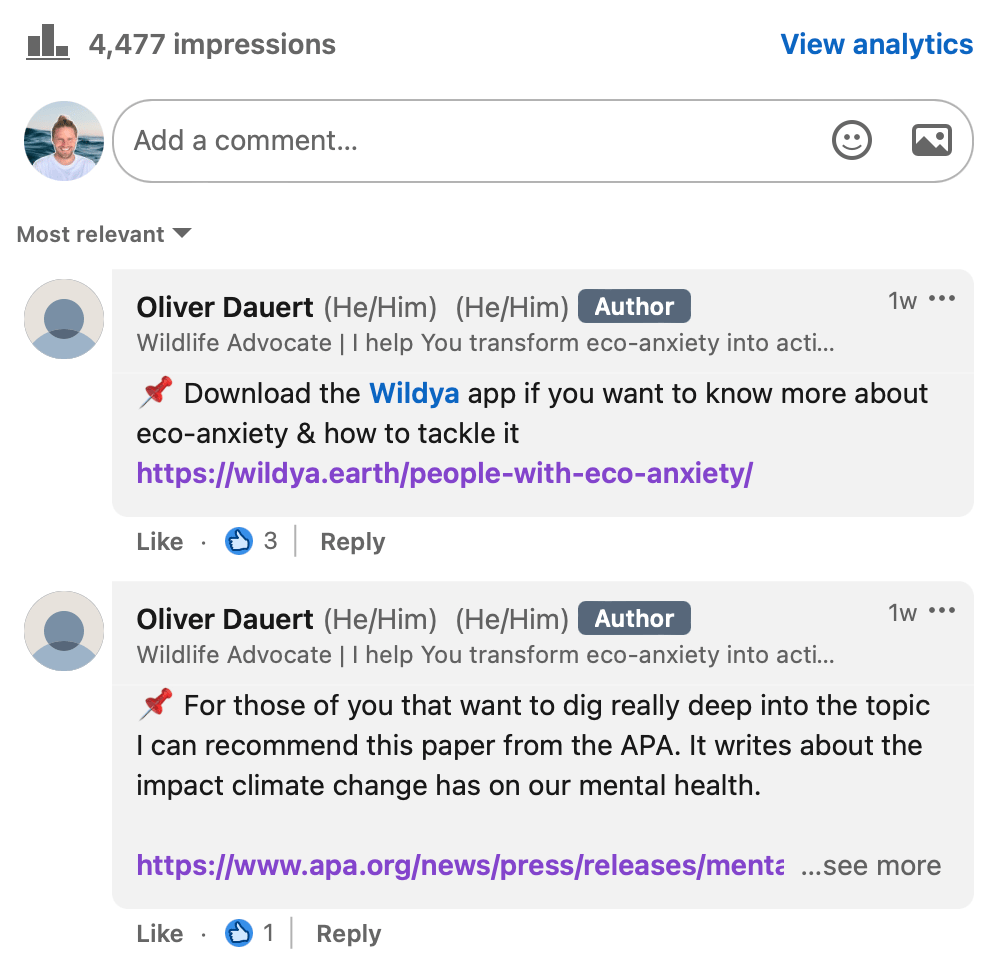 🐋 Do you want more kicking hacks like this to improve your organization's strategy?
Subscribe to the Double Your Impact newsletter for weekly tips on how to make your Nature venture thrive!
Your turn: start growing LinkedIn followers organically
4 actions to grow LinkedIn followers organically
1. Take 1 hour next week to reflect on how you want to go down that LinkedIn route, and if the answer is yes, start with step one.
2. Stick to the allocated time you gave yourself. Block a time slot in your calendar and don't work more or less on it.
3. Go through the steps and put them into action.
4. Contact me (oliver@wildbusinessmates.com) if that is too overwhelming here and you would prefer to have someone to co-design or take over your LinkedIn. The first 30-minute intro call is for free.
Cheat sheet to increase your followers on Linkedin
In a nutshell, growing on Linkedin is not as hard as often claimed. By implementing these steps, you can see a difference quite fast.
Here are the best tools to create qualitative content and grow your community on LinkedIn:
Do you want to learn more about how to increase your followers on LinkedIn? Check these two resources:
Taplio to get inspired, find the right time to post, etc.
Shield Academy to simply go more in detail.
Before you go.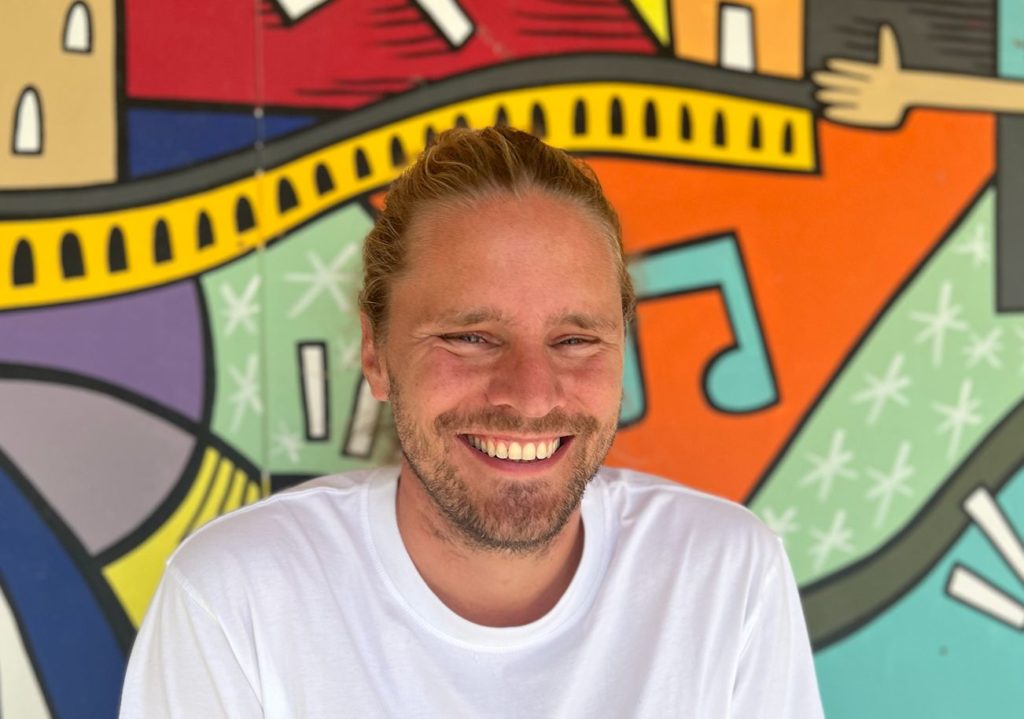 If you think this newsletter is helpful, please share it with 1 ecopreneur in your network.
This will help me massively to keep these tips free.
LinkedIn is a great way to connect with like-minded biodiversity heroes and a powerful tool to get more attention for your nature venture.
Yes, you need to invest time into LinkedIn to see results, but these steps get you on track.
The most important tip to grow your followers on LinkedIn organically is to stay yourself. We don't need more fake people on Linkedin. We need inspiring ones, and I feel you could be one of them.
See you next week. Have a wild one!
Best,
Oliver
🦧 Whenever you are ready, there are 2 ways Wild Business Mates can help you grow and double your impact:
1. 1-to-1 business consulting. Detailed and personalized consulting to double the impact of your biodiversity organization in the shortest possible time. Not sure how good your pitch deck is?
Sign up for the waiting list by writing us at oliver@wildbusinessmates.com (unfortunately, we are booked out at the moment).
2. Wild Business Mates in Action. Wild Business Mates help you execute in areas you are struggling with. Tech, Marketing, Sales, Communication, etc. We can realize all the steps I mentioned above.