Reading time: 9 min.
Do you want to double the amount of donations that you make through your website? If your answer is yes, buckle up because here are 12 tips for improving your donation page.
I am inquisitive, so I find at least 3 new nature NGOs daily. After a while of doing this now, I started to see a worrying pattern.
Quite often, the donation page needs to be more addressed. Not cool.
This page is one of your website's three most important pages.
Home page: creates a first impression and influences if the person will stay on your website or not.
Solution page: provides people with a better understanding if this is what they are looking for.
Donation page: gives donors the last push to support you.
It should be one of the pages on which you put the most effort and time. So, if you have visitors on your website but not enough people donate, this article is for you.
A recent benchmark study by MR Benchmarks suggests that your conversion rate as a nature NGO should be around 20%1. You can cross-check this with your current conversion rate to see how urgently you need to make changes. Then, because it is one of the most important pages on your website, you must constantly update it and test new strategies in A/B testing.
For example, just changing the wording on the donation button can have a significant impact.
Before we jump in, here is a short-term clarification so that everyone can follow:
Conversion: The number of people who visit your donation page and start to donate.
A/B testing: Instead of launching or updating the donation page, you have two pages live. You show 50% of your website on one version of the donation page, and 50% see another. This helps you to make the best decisions.
Cross-selling: If a person buys a product from you and you immediately share with them another product that could match their first purchase.
So now, let's dive into how you can increase the donations for your biodiversity NGO.
12 tips to increase your donations by improving your donation page
1. Make monthly donations a default setting
One of the easiest tricks, yet often overlooked. Instead of a one-time donation, you want people to make monthly contributions.
So make it the default option when people come to your donation page. Like this, you make it clear that the most significant impact the person can have is by supporting you regularly.
2. Have an option for businesses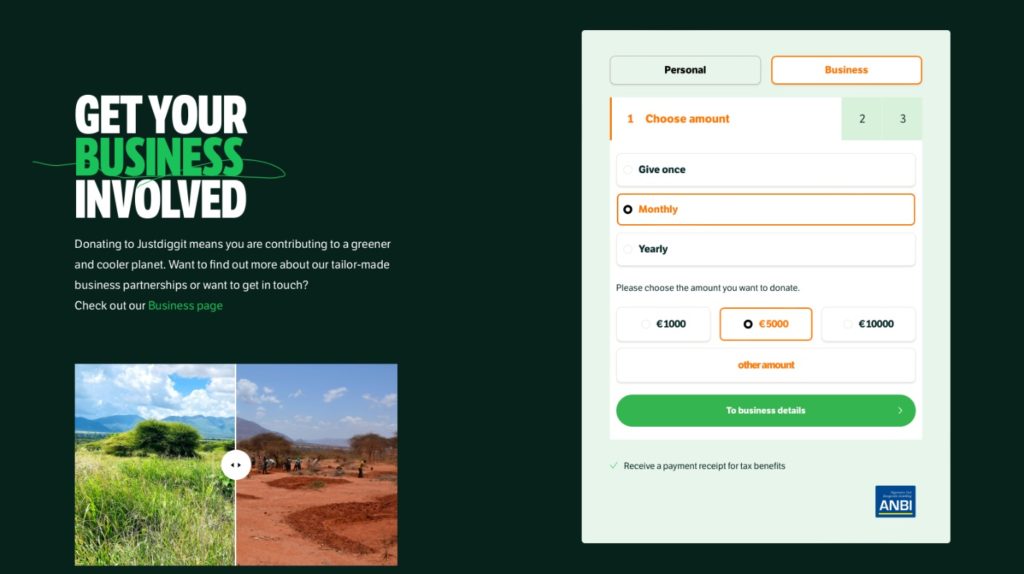 You won't only have private people on your website. Businesses are also increasing their search for partners that can create a positive impact in their name.
So make sure that you provide them with a different view because their monthly contributions are incomparable with the ones of an average donator.
The picture above shows a great example from Just Diggit's donation page.
After all, if you can convince just one company to support you, you can generate the same donation amount as 100s of individual donors.
3. Add 3rd party credentials

Before people donate, they need to trust you. If you want to speed up the process of them trusting you, use some 3rd party credentials, like awards or certifications. It ensures them that their money and credit card info is in good hands.
Some examples are charity transparency labels, including the one of Guidestar, internationally known labels like 1% for the Planet, or even just payment providers like Paypal or Stripe.
A great example you can see above, which you can find on One Earth's website.
4. Include testimonials on your donation page
Talking about trust, you can also increase it by building up your social proof. If you have some donors that are especially vocal about your project, use their words and share them on your donation page.
The picture of a real person + words coming from them, and not you, can go a really long way to boost your conversions.
Waves of Change is doing an excellent job on this. s you can see above, they are using the voices of the people they helped. Now, obviously, you can't get the testimonial of an elephant, which is why I suggest taking the voice of your biggest fans.
👉 Would you like to get personalized business tips for your nature organization?
Book a free intro call with me to discuss your business challenges!
5. Explain what the donation will be used for

Donors want to know what their donations are used for. It's pretty fair, isn't it? So, be as precise as possible about what their monthly donation enables you to do.
These are the 3 most powerful ways I have seen:
Your cause – just reemphasize that the money will be used to reduce plastic, stop poaching, increase awareness, etc. (easy)
Common expenses – mention how much money is needed for a particular action. Examples can be: 1000$ for a GPS tracker, 500$ for a monthly ranger salary, etc. (medium)
Impact created – show them how their donation translates into impact. E.g.: 1$ 1m2 restores, 3$ one coral planted, etc. (hard)
I favor impact and donate most of my money to NGOs that can provide me with those insights. But you can start your journey with the simplest, reemphasizing the cause.
Coral Gardeners above have a great example of this on their donation page.
6. Make the payment process as easy as possible
Donors already want to give you money, so make it as easy as possible for them to do this. Remove all the unnecessary fields that are not obligatory. You don't want to create a painful experience where they need minutes to fill out your form or, worse, give up on donating to your cause.
The payment process shouldn't take more than 1 minute. Test it yourself.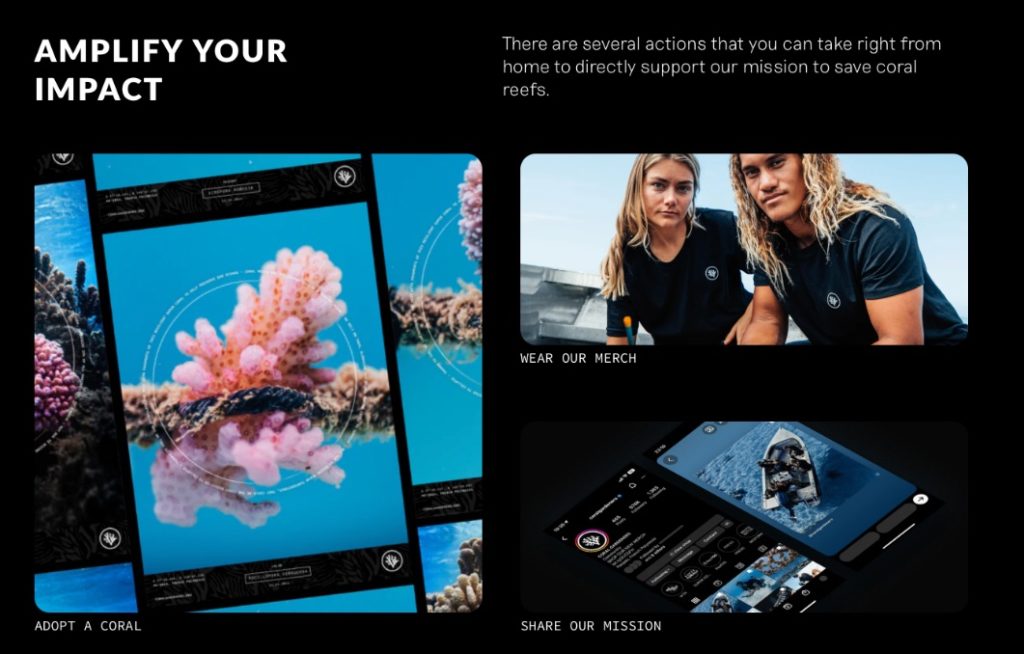 The person is already on your donation page, so they are definitely considering supporting you. So why don't you show your other products if you have them?
Donorbox or Funraise are great tools to reduce this pain point for your potential donors.
7. Start to cross-sell to your donors directly
An excellent example of this is offering merchandise for your NGO, like T-Shirts & co.
Coral Gardeners, again, is doing a great job on this.
8. Offer donations in a different format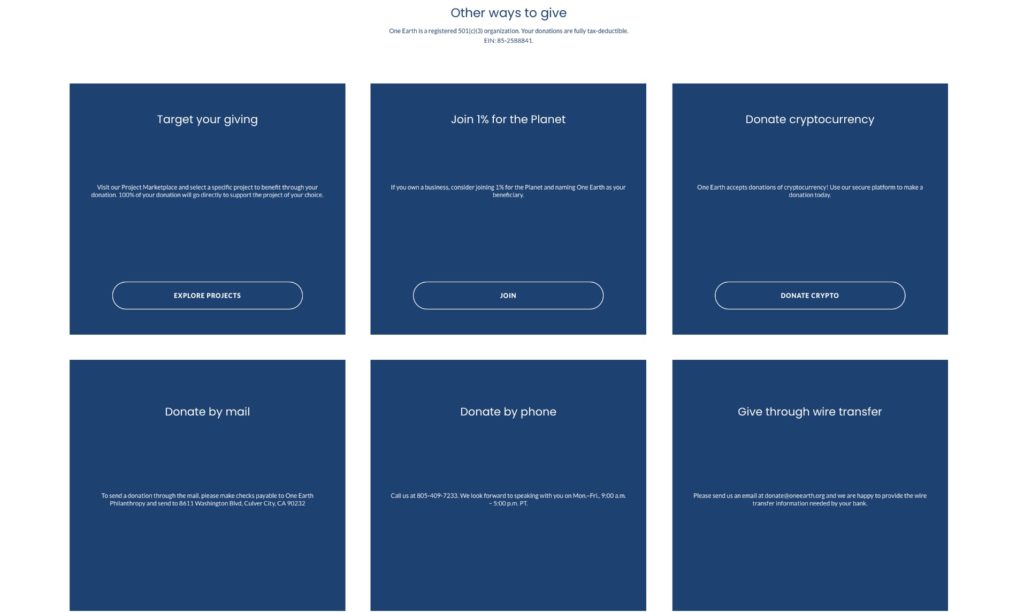 Now monthly or one-time donations might differ from what your visitors seek. They may want to commit but in a different format.
Some examples I have seen:
donate cryptocurrencies;
make a stock contribution;
create fundraisers;
become a beneficiary of a life insurance policy
give a gift real estate;
get testamentary gifts.
One Earth showcases this quite well, so it is manageable.
👋 Looking for the best tools and resources to make your organization thrive?
Download our free Biodiversity Hero OS and discover the best support materials available!
9. Mention that your donations are tax-deductible
People can get tax cuts in many countries if they support a local NGO, and this is a significant advantage of donating.
If it is the case, mention this on your donation page so they can save some money. This makes supporting you even more of a no-brainer move.
10. Don't send people to another website
This is the most frequent mistake I see. Please do not send people to another website to make their donations. The person just got used to your design, branding, copywriting & co.
When you send them to another page, you start from zero again. Because now, the potential donator needs to develop trust for this other website.
Furthermore, they will be puzzled about your connection to this other website.
11. Ensure that your donation page is mobile friendly
Most donations are still done via desktop (63% of donations). Yet mobile users represented 57% of all visits to your website1. So, ensure that the entire experience on their mobile looks as flawless as on their desktop.
If the experience sucks, they will not return to make their donation at a later time.
12. Reduce the noise
All of the above can quickly work against you if it is not balanced right. The donation page should still look simple enough and easy to understand so visitors stay focused on their initial intent: donating.
So eliminate any distractions that don't help to achieve this goal.
🐋  Do you want more kicking hacks like this to improve your organization strategy?
Subscribe to the Double Your Impact newsletter to get weekly tips and… double your impact!
Your turn: time to improve your donation page and increase your donations
5 key steps to take to increase your donations
Dedicate an hour this week (what about Tuesday?) to going through your donation page.
Check the current performance of your website, and in particular, the donation page, before you change anything.
Go through the tips list. Which 3 tips resonated the most with you? Try to implement them!
Check again after a fixed period (if you have many donations per day, check in after a week; if you don't have many contributions yet, check after a month) to see if there is an improvement.
Contact me if you want me to screen your donation page and provide 3 quick fixes for free. Just write me at oliver.dauert@wildya.earth.
Cheat sheet to improve your donation page and increase the donations for your environmental NGO
In a nutshell: You can miss out on many potential donors if your donation page is not convincing.
Best tools: Donorbox, Funraise, Paypal, Stripe
Best practices: Coral Gardeners, One Earth, Waves of Change, Just Diggit
Set up time: A great page needs some crafting. Probably a day.
Maintaining time: If you found your sweet spot with a high conversion rate, you no longer need to test that much. But until then, invest an hour per week for testing.
You can quickly lose potential donors unnecessarily, so make sure that you incorporate those 12 tips to improve your donation page and ultimately increase your donations.
See you next week.
Have a wild one!
Oliver
🦧 Whenever you are ready, there are 2 ways we can help you:
1. 1-to-1 business consulting. Detailed and personalized consulting to double the impact of your biodiversity organization in the shortest possible time. Not sure how good your pitch deck is?
Sign up for the waiting list by writing us at oliver@wildbusinessmates.com (unfortunately, we are booked out at the moment).
2. Wild Business Mates in Action. Wild Business Mates help you execute in areas you are struggling with. Tech, Marketing, Sales, Communication, etc. We can realize all the steps I mentioned above.